You are currently browsing the monthly archive for September 2012.
Give it up for Anke Eve Goldmann!
Or as we can say in the rough and rumblous new world of social media, 'a fuckload'. Just shipped up from Albany for me.
Doing drinks food / aperitifs / nibblies / amuse bouche / whore's dwarves* / snacks for a wedding of 130 souls on Sunday. There will be adventures, maybe there will be stories.
Did you know that they're still alive as they're able to live outside of water to allow for tidal fluctuations. Anyway things to do, jars to fill.
*Plot spoiler for GoT
Also: half of quite a bit of salmon for some 'gravel relax'.
Triumphy but tank a mystery. Nice clip ons. Unknown rider is, as John Berger would say, actively returning and confirming the gaze of the masculine spectator.
It may come as no surprise that pork products are thin on the ground in Turkey, so I was asked by an old friend to make a porky meal and I did.  Three kinds of pork in fact.
Pork in Cider
From Ripailles. A rib roast of pork cooked gently in my Raymond Loewy Le Creuset pot on the stove top in sliced onions and dry cider. Later to be joined by bits of Granny Smith apples, bulbous spring onion, potatoes, and peas. Yes I am shit at crisping crackle but the cooked vegetables were magnificent.
Asparagus and Pancetta
I'm going to tell you it was asparagus and cubed pancetta cooked in a frypan with butter and you're going to say yeah well I could have guessed that.
Puy Lentils with Bulgarian Sheep's Feta, Salumi, and Shaved Fennel
Fry up a chopped onion until soft, add 500g of puy lentils, cover with water and simmer for half an hour until cooked (more aldente than soft). Drain and allow to cool a little. Fry up the sliced salumi. Chop up fetta. Shave the fennel bulb. Mix it all together with a slug of olive oil and some lemon zest. You don't need amounts.
Speaking of Bulgaria, apparently people go to Bulgaria to get their Turkish visas renewed and to buy bacon. I don't know if this is a visa condition but am a little saddened  of any country that you must travel from to buy pork. I'm no great fan of dietary restrictions in religions. It does push my believing in Supreme Being thing that they'd take time to freelance on food hygeine but still must admit to returning to God's other pieces on food cleanliness like  ' Coloured Chopping Boards – What They Mean and Why We Use Them' and 'Hands – Wash Them and Wash Them Well and Often'
Evening was owned by E, now 4.5 years, who managed to set the table, create a centrepiece, make name cards, create tickets for the dinner that had to be presented before entering the dining room, demonstrate the first three ballet positions, give a ten minute presentation on why the centrepiece was a fountain, magic show, brief rendition of hot cross buns on the Casio followed by free jazz improv, and provide medical assistance to Lewis the teddy.
Nice work.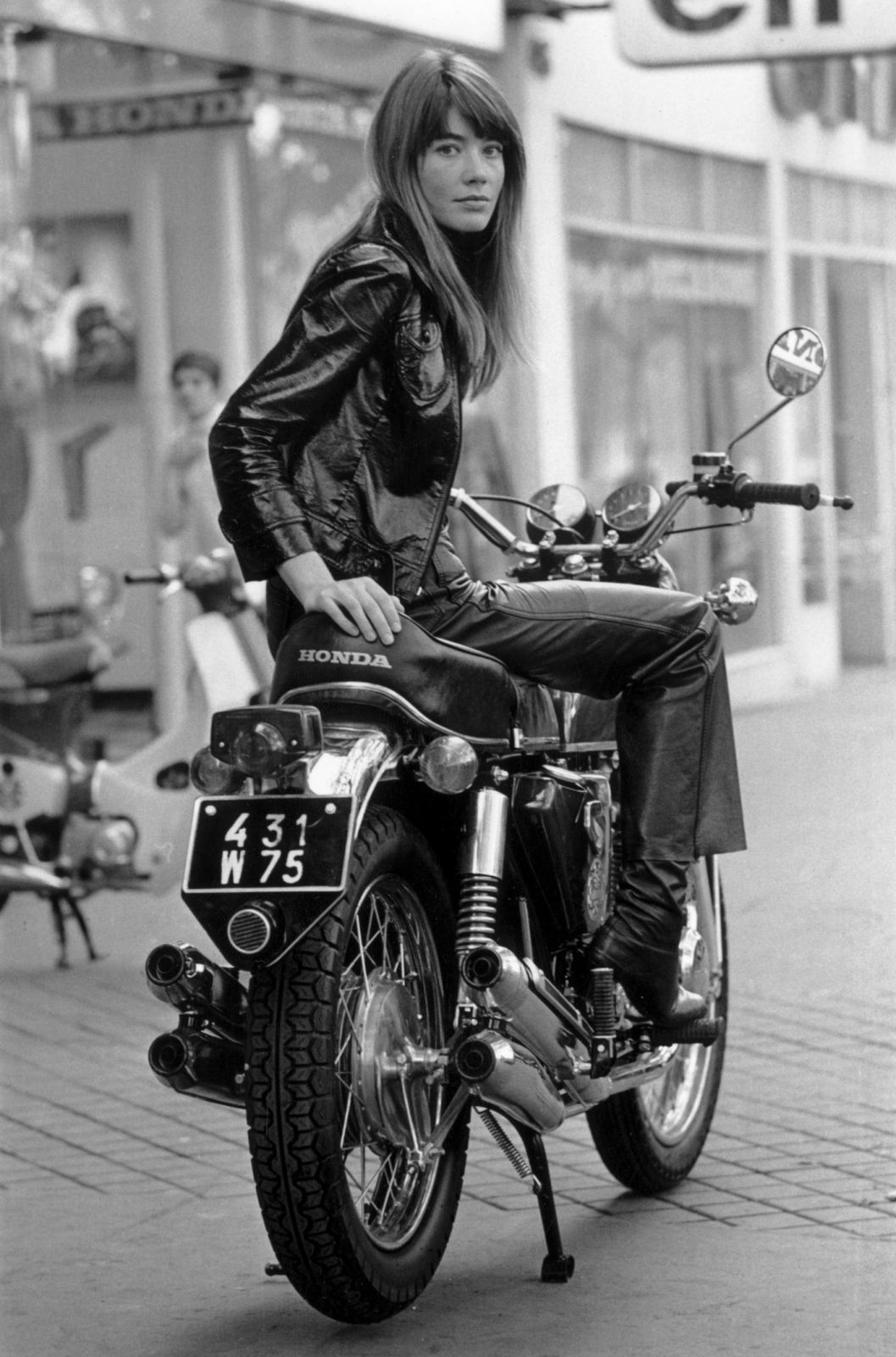 Revolutionary late 60's in-line four the Honda CB750 with French singer-actress Françoise Hardy, who rode the shit out of it.
Ahm yes, well [cough] hello. I did promise to write a few things here again rather than keep it as a kind of bloggy attic of stuff – 'Look grandma! A Pierre Hermes macaron!'. Maybe a couple of linguistics thingies, a bit of politics, maybe event the kind of stuff where I say that Albert Camus is the Joan Miro of Existentialism and Joan Miro is the Albert Camus of Surrealism – then I have a lie down and wonder if I've got it the wrong way round. Lady cafe racer Fridays. Bold plans.
Anyway, here is some food I cooked and I will now talk about it.
Asked to cook a dinner party for a nice friend  at their house for a dozen nice people. Nice and fancy and the two conditions that it be gluten free and that there be no pork. This actually isn't all that hard except that it's a bit like when somebody says "Don't think about the bass player of Manowar" and all you can think about is the bass player of Manowar. How about pork pies? Oh wait, they've got pork and gluten etc.
So it eventually ended up like this:
First Course
Scallop and Red Snapper Ceviche, Vodka-cured Salmon, and Sashimi Tuna on Radish and Snow Pea Shoots
Esperance scallops, which were darling wee little coin shaped things that I cut in half and 'cooked' in lime, lemon and chilli with red snapper. I love the idea of a vodka cure – Russians have been using it to cure depression for years, not entirely successfully. Snow pea shoots are tasty and pretty and just need a bit of picking to get rid of the big stems and bigger leaves. Dressing of olive oil and a bit of the ceviche juice.
Another First Course
Goats Cheese Pannacotta with Slow Cooked Tomato Sauce and Lamb Fillet
Bit of this and a bit of this Was going to do this on it's own but it seemed a bit white wine lunchy so a thyme, rosemary sumac lamb fillet done rare was a nice addition. Chickentarian got poached eggplant instead.
Mains
Braised Beef Ribs, Rocket and Horseradish Sauce, Fresh Truffles

Beef ribs recipe from Jake Drachenberg in the last issue of Spice, which I will summarise as ribs cooked covered for 4 hours at 200C in white wine, soy sauce, chicken stock and assorted herbs and a head of garlic.  The trick is to refrigerate the night before and then scrape all the fat off (and there is quite a bit) just leaving the gelled cooking liquor. And the meat and rib, of course.
Sauce is from Ottolenghi – slow food gifted horseradish cream with lovely Balingup horseradish, blended with rocket, olive oil and yoghurt and season. Reheat ribs with gelled liquor Manjimup truffle thinly sliced and chopped – much more nicely than I did if you like – and then added to the cooking liquor when serving. Truffles at around $2 a gram set me back about $30 for dinner … look what I'm saying is this – you don't get much easier than this and if you want to go from 'tasty' to 'holy fuck', this is how. This is your food on drugs.
Truffled, butterflied spatchcock for chickentarian. Matt Wilkinson parsnip skordalia for solids.
Passed around a fennel, rocket and orange salad to freshen up the palate before being smashed with dessert.
Dessert
Hazelnut Marquise with Truffled Honey Hazelnuts

Is slavishly this but a quantum less on the fancy front (for non-metric users – 5/16 quounces). I actually like beating eggs for 15 minutes and bringing sugar syrup up to to soft ball stage. I suspect 'heavy cream' is less our 'double cream' and more like our Lannister Downs actually creamy full cream. The secret touch is that the eggs were trapped in a mason jar with the truffle. Hazelnuts roasted and covered in truffle honey. I cant begin to say how sexy the chocolate truffle fusion is. I don't know if you're still thinking of the bassist from Manowar but if its working for you, go with it.
Success. You can too.
Update: upgraded my server host thingy – apparently my website was being hosted at the end of Strangler's cassette – which then ate my two most recent posts. Thanks Santos and Rakka for saving them from limbo eternity.