Shanks and Faro at Clairault Winery
July 29, 2004 in Uncategorized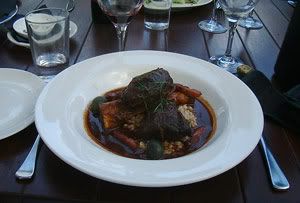 A late posting but visual content buzzers were buzzing
Had lunch while at Augusta at Clairault Wines. My veal venison shank was exceptionally enjoyable but I've just realised I can't remember whether the shanks were vension or veal [venison!]. I was thrown by the use of faro . Thought it was barley, which I've not had for quite a while. Enjoyed it so I might use it instead of Puy lentils some time in the future. It was the pick of the bunch as the other meals were a shade miserly and three tortellini for a main was taking liberties my son.
The wines are good but no notes as I'd shut down my wine sensors as I was skipper. Aye bloody aye.
Update:got on the blower and the nice lady at Clairault told me it was venison. Cheers.
gastroenterwritenment
manthatcooks is an irregularly updated and occasionally informative foodsite for people who have, or would like to have, moved on from say … toast.