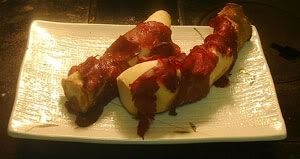 The mystery mushroom is a giant oyster mushroom (domo domo santos for woah! MushWorld). It reminded me of the $30 a pop matsutake and how in ad world they'd be grilled over charcoal, amongst autumn leaves, and washed down with Kirin Ichiban Shibori.
No such time luxury so second choice was that I really liked enoki mushrooms wrapped in bacon. Handily I still had some venison prosciutto from my trip down south that I could use instead. This left me choosing between Italian and Japanese for the additional flavour and I settled on olive oil.
Cooking
Wrapped the mushrooms with the prosciutto, a bit of oil under in the dish, a little more on top and then put in a 170C oven, letting the prosciutto get crispy for 10 minutes. It was then covered with foil to keep the moisture in and cooked for another 25 minutes.
Eating
Mushrooms have very characterstic tastes and seem to have their own unique textures. They gave off a lovely honey smell but the taste lacked enough meatiness to counteract the sponginess. I'd like to try them just with soy but I think the answer lies in a smaller bite, perhaps by slicing them lengthwise.
Desperate Restaurant notes: The Asian mushroom is given a fresh Italian fusion approach with the use of prosciutto and extra virgin olive oil. Venison gives that perfect dash of huntsman exotica with a bold stroke of antler virility. Linear forms match with curves. Earthy tones hint at winter. Crunch meets mush.
Tags: mushrooms
Comments are now closed.
gastroenterwritenment
manthatcooks is an irregularly updated and occasionally informative foodsite for people who have, or would like to have, moved on from say … toast.