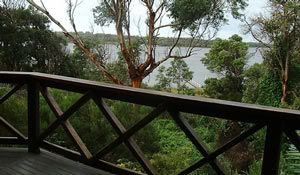 You've been here.
Stir, stir
You remember. You're staying in a strange house and you have to cook dinner. Numbers go from 4, to 6, to 9 in an afternoon. You visualise the forequarter of lamb in your head. Enough? Risotto for entree, straightforward enough – there's chorizo in the fridge. The one guest you haven't met is the chief wine-maker at Vasse Felix. Now the forequarter, is it going to be able to be made into a rack. Chorizo and, and, and, mushrooms should be a safe enough bet. Vegetables with the main. The usual jus should do the trick – shouldn't have left the bag of dried forest mushrooms back in Perth. Shallots would be nice in the risotto, forget and just get onions.
Stir, stir
Get back with a few hours before dinner. Lamb has defrosted, simple pestled marinade of nuovo olive oil, garlic and rosemary, crushed together. Open an MB. Try to tidy up the forequarter but bone structure unfamiliar. A simple clean up with one of the shanks taken off, remember to keep the offcuts and put them in the bottom of the roasting tray for a better gravy. Rub the marinade over and decide to add some olive tapenade. Cover and leave. Chop up vegetables, thinking small cubes, end up with the usual chunks
Stir, stir
Look for a saucepan for risotto. Find a seventies jobbie that looked ceramic but probably isn't and has a solitary millimetre of metal all round. Have a sneaky peak in a Jamie Oliver cookbook to make sure you know what you are doing. Sautee the field mushrooms with butter. Crisp up the slices of chorizo with olive oil. Nicely done, set aside. Add the chopped up onion and garlic, sautee until soft in olive oil, add a bag and a half of risotto, stirring until it colours. Ask if anybody wants a glass of white (A Kalgoorlie Childcare Centre Fundraising Chardonnay I think), then chuck a couple in with the rice and stir. Open up the packs of chicken stock, spill half of one over the bench. Heat up in another pot. Open another MB. Go back to veges, dodge Mum making noodles, return to risotto. Keep stirring until wine is evaporated.
Stir, stir
Add the stock and return to vege prepping. Look for a rack ,there is none but settle for propping on veges. Go back to risotto. Rice has stuck ever so slightly, you work it loose with more stock and realise that if as much as one grain of rice sticks and burns, the dish is useless and it's fish and chips for dinner. Toddler one discovers unstoppably noisy fire engine. Microwave vegetables. Another ladle of stock, more stirring, saucepan is filling in volume. About 30 minutes until ready if I take it easy. Toddler two eyes off my bright green portable stereo with destructive fascination. Return still firm vegetables to microwave. Phone rings, guests will be half an hour late. Turn heat down to murmur. Get given a Slovakian Nude Scratchy Beer. Add another ladleful and keep stirring. Turn away to put roast in the oven and veges underneath.
Stir, stir
Stock running low. Look at beef stockcubes, you decide against it and go for subtle over harsh, dilute stock with water. Nick another glass of wine. Look down to see how the oven is going and it's slow. Last of the guests arrive. Think you can politely stretch the risotto out for another 15 minutes. Your arm throbs. Check the roast, it's slow. Turn up head. Field a question about which wine to serve, you shrug shoulders and send out an order for plate and grated pecorino. Down to the last few drops of stock. Give the roast and the veges a quick basting. Look up people still sitting there, gesture to eat. Go back to basting, take a guess on time and back the oven off. Join the table and scoff down the risotto, not bad, someone says creamy, that's good enough…
Comments are now closed.
gastroenterwritenment
manthatcooks is an irregularly updated and occasionally informative foodsite for people who have, or would like to have, moved on from say … toast.