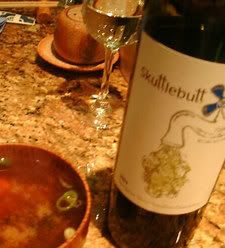 Not a lot of restaurant reviews of late and little wonder. The other month I had a lovely meal at Jacksons, punctuated by a sweary row over what constituted torture ("nobody was &%$#! &%$&# at #$%&% boarding school! oh hi ahhmmmm yes I'll have the apple and walnut risotto for entree and the ahhh rabbit for main") and then had a great meal at Cream where my sister and I managed to break or upend at least three glasses between us. Perth's a small town, word gets around. I now book in my wife's name.
Mojo's in North Fremantle is a top bar and I'm old enough to remember when it was The Stoned Crow, they sold Kirup Syrup, and I was stunned as a green 17 year old to see a white rastafarian skinning up. Anyway, I got off to an early start on Friday and what I vaguely remember is here.
A quiet night was in order for Saturday so we went to my fave Japanese restaurant in Perth, Shige . I went there by farm Landcruiser and discovered the CB radio scene in Perth is alive and well – sample convos
Channel 1

1:ba'&$%d

2:f%&$#ff

1:ya sleeping in the &%$& shed tonight

2: yeah well at least my wife wasn't f&%#& by my best mate.

3: Steve ya there?

Channel 5

1: to the hip hop the rhythm and the method…

2: I was sc&%$& today

3: Yeah

2: went to bed at 3:30 and woke up at 6:30 and chucked me guts up over me bed.

4:Steve ya there?
Anyway Shige was great once again, we took a bottle of Corr inspired Skuttlebutt Sauvignon Blanc/Semillon/Chardonnay 2003, which Toni enjoyed but I'd hoped for something a bit drier as a sake facsimile. Skuttlebutt is part of the extremely good Stella Bella family of Margaret River. For eats we had gyoza, fried oyster, tempura moriawase, and the grilled pike – all good. We were at the counter and watched the owner quietly and effortlessly just churn out plate after plate of food. Reminded by a Japanese couple of the very good Japanese piece of etiquette of offering a glass of what you're having to the chef.
Sunday morning was an even more relaxed brekky at the Left Bank Bar & Cafe in Fremantle along the Swan River. The Left Bank is a bit disorienting as it looks like a pub but doesn't have any beer taps, just bottles. Breakfast is good – scores big on (q*v)/$ – hollandaise, eggs, bacon, mushrooms and toast with a long mac. Flawlessly sunny what a place to live winter morning enjoyed and then back to the Australian dream.
Update Ahh Skuttlebutt, what a satisfyingly prescient choice – only one bottle though, didn't want to go overboard.
Tags: CB radio, restaurants, weekend
Comments are now closed.
gastroenterwritenment
manthatcooks is an irregularly updated and occasionally informative foodsite for people who have, or would like to have, moved on from say … toast.