Sunday Night Tapas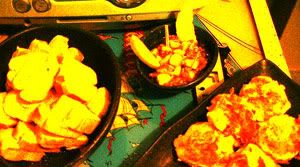 Silvania Franco has a straightforward book that promises much – Great Tapas. The patties cross the line from mashed potato blandness to tapas genius but it's a shame they retained their name as a patty. Patti Smith perhaps. Ham was changed to prosciutto as there was an especially nice looking hunk of it already on the slicer at the deli. I used a 2yo NZ cheddar in the absence of manchego.
Ingredients: 4 slices of prosciutto-chopped; 200gm of grated cheese; 500gm of Ruby Blue potatoes – boiled and mashed; 1/2 cup of plain flour; 2 tbs of butter; muchos salt and pepper to taste.
Mix all the ingredients together and shape into patties the size of an iMac mouse. Fry in a little olive oil on both sides until golden (they are a little fragile).
Eaten with the marinated octopus I made (excellent if I might say so) and some bread and we were joined by a bottle of Alias Pinot Noir, substituting for sherry.
*The photo was me being spiteful at the poor exposure and just scrunching up the brightness and contrast, not big, not clever.
Comments are now closed.
gastroenterwritenment
manthatcooks is an irregularly updated and occasionally informative foodsite for people who have, or would like to have, moved on from say … toast.