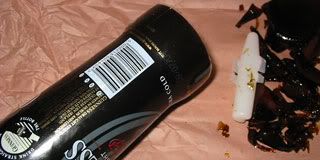 No, not the cover photo of my new novel RUC & IUDs, a gripping fast-paced tale of forbidden cross-denominational love in Northern Island.
It is, rather, evidence of research done a couple of months ago after I worked out there are very good reasons for serving beer in glasses way back here in May. Like any late convert, when a friend offered me the latest Guiness in a bottle, I demanded a glass. "No" he said, "it doesn't need one". He was right, so we smashed open the bottle top have a look at the widget inside, took a photo with his camera. The photo came a few weeks ago.
I'm going to be a bit a priori (read lazy) about this and offer the following explanation. The widget creates a tunnel in the flow to the mouth allow the flavour to breathe and open up, just as happens in a glass. I went on to imagine that the wings create a hydrodynamic effect like a turbine. But then considered the less exciting, but more important function of preventing the widget becoming lodged in the throat.
Comments are now closed.
gastroenterwritenment
manthatcooks is an irregularly updated and occasionally informative foodsite for people who have, or would like to have, moved on from say … toast.