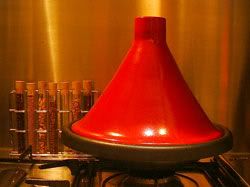 What you see above is the Le Creuset Moroccan Tagine. It was a wedding present to two friends for reasons of it being a very cool looking thing and low likelihood of them already having one. As knives are bad luck, finding well established 30 somethings a wedding present is no easy task. Since I liked it† there was a bit of vicarious pleasure to offset the sadness of having to give it away. They were nice enough to invite me to its christening so how could I refuse.††
Tagines are functional to boot, slow cooking, the water rises to the top and cools and then falls back into the dish. You can of course appreciate how this would be important in a desert area. As an added bonus, the very top doesn't get hot so you can lift it off with bare hands (yes I tried).
Dinner was greatly enjoyed to the fill with a beef and a chicken casserole (forgot to get the official names) and couscous. Worked through a few bottles of Samson Budweisers (round the corner from Budvar); a bottle of 2001 Howard Park Leston Shiraz; and the, must be the zeitgeist that someone else had brought along a couple of bottles of Skuttlebutt Shiraz Cabernet Sauvignon Merlot .
Finished the evening with cognac and a nasty battle with two engineers in that masterful game of changing conditions, friction and gravity – Jenga.
†something about the tagine that I can't quit put my finger on
††though due to a scheduling clash I'm now down for 6 dozen fundraising Caramello Koalas to help the fight the forces of darkness.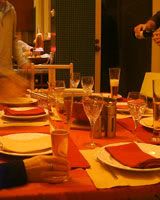 Comments are now closed.
gastroenterwritenment
manthatcooks is an irregularly updated and occasionally informative foodsite for people who have, or would like to have, moved on from say … toast.