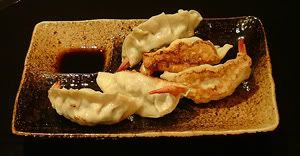 Prawn dumplings for IMBB7
Dumplings have been mentioned in the context of love, and I can't argue with that. Dump, for being given permission to be friends; and ling for that rat Nazi bastard Quisling . The Japanese understand this and have named them gyouza. The gutteral "Gyou" for building power from the diaphragm and "za" to punch through the ribcage to extract the still warm heart.
This is no such sadness but a reconstruction of ebi gyouza which I bumped into in a small Ramen shop in Bandoubashi in Yokohama near 10 years ago and never saw again. I travelled Japan, thinking I'd seen them but all had the prawn as a mashed up non-entity rather than as a whole tail. We meet again and discuss how our lives have changed since we last met as the clock ticks towards our inevitable parting.
I referred to jibun de tsukuru puro no ra-men (Make Professional Ramen by Yourself) for the base recipe. The book's a great one and I often flick through it, dreaming of the day I finally make puro no tonkotsu ra-men.
Ingredients: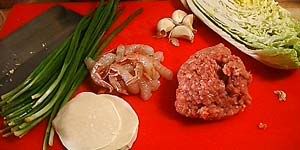 30 small raw prawns: peeled with the "sand tube" (ha!) removed, but the tail left. Slashed the meat across the tail to stop it curling when cooked.
300gm minced pork:
quarter chinese cabbage: blanched for 30 seconds then chopped
bunch of chives: should be nira – garlic chives but I balanced with more garlic
4 garlic cloves: minced
wonton wrappers; or the thicker gyouza wrappers if you can find them
plus – 1tbs of potato starch; tsp soy sauce; tsp of sesame oil; one eggs; tsp oil; salt and pepper.

Assembly:
Everything except for the prawns and the wrappers goes into a bowl and mixed together. You may need to adjust the amount of cornstarch and eggs to get the pastiness right. You may also like to vary the flavourings. A quick whiff of the mixture will tell you if you're on the right track.
Now just place a prawn in the wonton in your hand with the tail slightly protruding. Then add about a teaspoon of the mix and seal the wonton by making small folds. Repeat until you run out of prawns. You may also like to keep a towel over the wontons and the gyouza to keep them from drying out.
And off my school of gyouza went to a friend's house for dinner.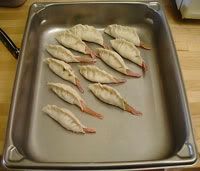 Cooking:
This is the clever bit. A combination of frying and steaming. Ramen shops have specialised cookers but all is needed is a frypan and a lid.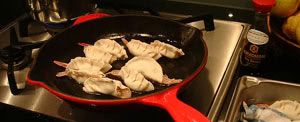 First you need to fry the gyouza in a little oil for about 30 seconds to get the bases just golden.

Then add a ladleful of boiling water to the pan and then cover. The right balance is for all the water to vanish in 5 minutes which will leave the gyouza perfectly cooked (remember it's got pork in it).
Serving
I'm a bit fond of the dish I bought in Japan you see on the top which has the dipping bowl built in. The dipping sauce is half soy sauce, half rice wine vinegar and a splash of chili oil.
Time consuming rather than difficult, the recipe was a success with the prawn providing that extra element of texture to the softness of the skin and filling and the crunch of the base. No ramen but they make for tremendous lager accompaniments. The night continued with steak and, for lovers of understated reds, the 2001 Wave Crest Cabernet Sauvignon from South Australia. We've had Fish meets Dish, Lamb meets Dam, and now East meest Beast.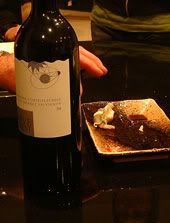 Thanks again to the IMBB host.
Sidenote: small Japanese children who don't burst into tears can be amused by folding your ear forwards and saying "gyouza".
Update: A vast global melancholy of dumplings now up at life in flow – many thanks to all involved.
Apropos: Language Log – gotta love it.
Foodovers: leftover fillling mixed with some kim chee, fried as a patty and eaten wrapped in lettuce with some chili sauce. Not bad at all.
Comments are now closed.
gastroenterwritenment
manthatcooks is an irregularly updated and occasionally informative foodsite for people who have, or would like to have, moved on from say … toast.