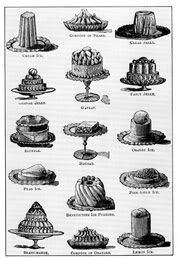 Legible version here
From my 1977 copy of Australian Colonial Cookery by Richard (nice combo) Daunton-Fear and Penelope Vigar – "A page from Mrs Beeton's cookery book illustrating some of the hundreds of elaborate desserts which were part of a good cooks repertoire during the latter half of the nineteenth century". Part of my research for my groundbreaking book Confections of History-The Myth of pre 1970s Rubbish Food; Chapter 6 – No Empire, No Fancy Jelly".
There'll be a test next week, get boning.
Eddy's in the Space Time Continuum: Fine dining and fisticuffs at A Journal of Four Coloured Colonial Fancies
Speaking of Mrs Beeton – things have been rather quiet over at Tripe Soup. And which cake do I like? The deltoid one seems to have had quite a bit of work put into it.
Tags: scans
Comments are now closed.
gastroenterwritenment
manthatcooks is an irregularly updated and occasionally informative foodsite for people who have, or would like to have, moved on from say … toast.