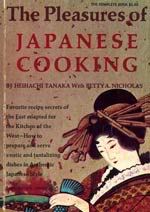 Andy over at Tripe Soup asked me if I could recommend any Japanese cookbooks so I thought I'd post it rather than hide the answer away in the comments section.
Japan has a vigorous publishing industry which pumps out a huge stream of cookbooks and magazines and it's a pity more don't make it over here in a translated form (has an idea, decides all too hard). Even so we're not starved for Japanese cookbooks here either. I use three English cookbooks and each of them has its uses and represent three things you should look for in a Japanese cookbook. Firstly, I think Japanese food has been fetishised by food pornographers and these book are best kept on the coffee table or under the mattress. For normal use I'd recommend unpretentious and tasty as a guide.
There's no must have book but I have three books which illustrate what to look for.
The Pleasures of Japanese Cooking by Heihachi Tanaka. This is from 1963 and found in a second hand bookstore. Very much a core of Japanese classics apart from a few replacement ingredients, it's just as much an anthropological work as a cookbook. It represents a walk through the fundamentals and the "A Chat about Japanese Food" is extensive and informative.
The Joy of Japanese Cooking by Kuwako Takahashi. Marginally more Westernised. The Okonomiyaki, for example would be as recognisable as Chicketti to an Italian, but it does cover a wide range to different dishes; the pictures are instructive; it has hints on decorative cutting; and it has good dinner party plans, especially for the communal nabe and sukiyaki. Very much an all round reference.
The Many EcstasiesThe Food of Japan Bitsier in the sense that it is a book of Japanese recipes than Japanese cooking. More innovative that the other two, it is a good source of fresh ideas. You could use this to make an entree or have several dishes in a row. Japanese food doesn't lend itself well to entree-main-dessert. This one also has a few chapters on culture and ingredients.
The task is to work out whether you want to learn Japanese cooking or cherry pick but I'd recommend mastering the basics of Japanese cooking as there aren't that many. Japanese chefs are masters of specialisation rather than diversity. Most sauces are a combination of mirin, dashi, shoyu, and sake. The main cooking techniques are broiling, simmering, and deep frying. I'd also recommend developing a love for tofu, plain boiled rice, and miso soup.
The pleasure of Japanese food doesn't come from complexity or extravagant ingredients but simplicity, freshness, locality, the seasons and the celebration of life with food and drink.
itadakimasu
A few dishes from the archives:
Red Emperor Nabe with a 3 Fish Ceviche
Pork Belly and Potato Reduction
Crayfish Sashimi etc. in January 2004
Salmon Marinated in Miso with Chilli Garlic Soy Spinach.
Izakaya food in October 2003
Comments are now closed.
gastroenterwritenment
manthatcooks is an irregularly updated and occasionally informative foodsite for people who have, or would like to have, moved on from say … toast.