Herb Gardened Roast Lamb, with Du Puy Lentils; Minikins; Braised Fennel; Sliced Finger; and Potato Paillasson.
August 30, 2004 in meat, roasts, vegetables | 7 comments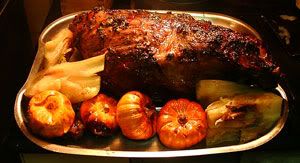 Been reading Richard Olney's Simple French Food, and while he's no Major Les he does make for a good read as an inspring blend of bile, obsession, and love. Though I'm yet to find the point where he dots the "i" and realises the common trend of appropriation, softening and santisation as culture moves upwards in the social hierarchy (see Rock, Roll and; Ball, Foot). Anyway most of the dishes started there.
Lamb
One nice looking leg of Cramphorne Edge of Civillisation Saltbush-Fed lamb. It's always good to adjust a few things to see the effects of changing ingredients but I got out to the herb garden and went mad with the secateurs.
Trimmed most of the fat off and then made finger sized pockets in the roast. I let it marinade in some EVOO, leftover sangiovese, and a splash of sherry.
Next I filled the holes with the herb mix – finely minced rosemary, garlic, parsely, thyme, green peppercorns, and a little sage with a bit of EVOO mixed in. Rubbed a little salt and oil over the roast and then placed it on a bed of quartered leek and lavender. In it went at 190C for 20 minutes and then down to 170C. Continued to baste over the course of the cooking and adding some of the reserved marinade as necessary.
Minikins
Pumpkins the size of a baby's fist, made a few vents in the top and chucked them in with the roast, making sure they got a good basting.
Du Puy Lentils
Previous story on these is here . Rinsed and then cooked in enough water to cover with a bacon bone, a bay leaf, and a sprig of parsley. Simmered for 25 minutes.
Braised Fennel
Stalks chopped off, quartered, gently browned in some EVOO with four unpeeled garlic cloves for 30 minutes then placed in a small saucepan with some salt and 2/3 cup of water, covered and left to simmer until the water has reduced to a caramelized syrup.
Potato Paillasson
Thinly slicing some potatoes on the slicer for this and then that feeling of having done something very wrong and looking down at my right ring finger to see a patch of skin missing. Off to the sink to lose a bit of blood and then sitting down with a nonstick dressing and a paper towel wrapped around it. Assistant chefs took over under close unnerving supervision. Potato slices washed and dried then spread in a frypan with some duck fat in it. Covered and cooked until golden underneath and then flipped.
Finishing Up
Roast took a shade under two hours and was rested for 20 minutes under some foil. A quick and easy jus made with a splash of wine and some of the liquid from the lentils. Roast carved and served.
Meat was nicely pale and subtly flavoured by the herbs and well complemented by the veges and lentils. Did the lamb a great justice and the finger will be OK.
Not forgetting drinks. Started with beers including a quite sweet Caledonian Golden Promise organic beer Had a 2001 Mc William's Hanwood Estate Cab Sav which had a hint of dark caramelly sherbert that I love, did I detect the ghost of a sherry in there as well?
Conversation drifted inevitably to the November elections. Pork gets fork.
Comments are now closed.
gastroenterwritenment
manthatcooks is an irregularly updated and occasionally informative foodsite for people who have, or would like to have, moved on from say … toast.