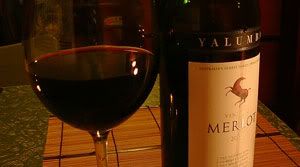 Lenn at Lenndevours had a fine proposal for a wine blogging day. Drink a bottle of New World sub-$15 Merlot. It's a big ask.
Merlot is rarely seen by itself in Western Australia, usually it's seen blended with Cabernet. South Australia has Merlot and I don't know why but South Australia is still a great mystery to me even if it is the gateway to the rest of Australia. Because of it appearing as a combo I thought that maybe I could set it up as whether it's Simon or Garfunkel, then I realise I hated both of them, especially Paul Simon with his kitschy rip offs of African Music to salvage his career. What happened to Art Garfunkel? Why am I talking about them?
Less than favourable conditions to taste wine with bogeys stretching back to my toes and mid week knackerment but onwards I went, ordered a Margherita pizza and stopped in at the bottle shop on the way there. The Merlot range is one of the cheapest and I had little trouble finding the one under the budget limit. I chose the most likely to be available elsewhere and chose "Australia's Oldest Family Owned Brewery" – Yalumba and their 2002 Vintage Merlot from South Oz. Noticed a Houghton Pemberton Merlot, which is from WA but it was over budget.
Tasting-Export
Excellent, and spectacular value giving French wines 5 or 6 times its price a run for their money. Superb with Meat or Pasta.
Tasting-Domestic
[Blows nose]. Promising palate, smooth entry, is that vanilla there, custard?, certainly berries, which ones?-not sure. The initial smoothness give way to sharpness which hangs around a bit longer than I'd like. Certainly better than the $10 bottle of Sangiovese I had the other day but inoffensiveness stymies inspiration. Pizza didn't interfere with the taste but I suggest something to eat soon after to finish the finish.
Overall
Cheap but the most interesting thing about it was for West Australians to say oh isn't Merlot usually blended. To be fair to the age of it, it was close to the 2-3 years of recommended cellaring. Forgettable, but as an added feature it's got a little perforated square on the back label that you can tear off and keep for future reference. New World eh!
This will in fact be the last drop of booze for me for the next month. I should have had two bottles. Drink posts for September will be more like this but shakier.
!Roundupdate: Lenn has (mer)lots
Tags: wine
Comments are now closed.
gastroenterwritenment
manthatcooks is an irregularly updated and occasionally informative foodsite for people who have, or would like to have, moved on from say … toast.