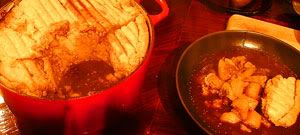 Winter goes, a day that turned bastardly and dinner with friends allowed me to try this wintery inspiration from my "50 if it's a day" Cook a Good Dinner by Ann "Many housewives are not interested in the baking of cakes or making of preserves, instead they would rather…(creative readers can make suggestions in comments)" Mason, to make a pot pie with a scone crust.
I used a recipe from a post a year ago on Beef and Guinness Stew with two modifications. One was to use Cooper's Extra Stout instead of Guinness and to add a bay leaf. All the stout went in the pot this time, every last beautiful drop. I held it tight, the ball of my hand resting on the cool smoothness of the glass, my fingers brushing against the label. This will be a long month.
The scone mix is easy to make and uses the following ingredients:
4 cups wholemeal SR flour; 60gm butter; 1tsp dried mustard; 1tsp salt; 1.5 cups milk/water mix
Rub the butter into the flour until it looks like breadcrumbs and then add the other ingredients – kneading lightly on a floured surface.
Rolled out the scone mix and trimmed to the size of the dish. To stop it going soggy from the stew, I gave it a quick and very light toasting in the oven.
Well?
It was little more bitter than the the last time, a little too much for me and I'm not sure if it was due to changing the stout or the addition of the bay leaf that did it. The scone was great, doubling in thickness. Simplicity. Meat, gravy, stodge all in one. The season's passing here but Northern Hemisphereans, tuck this one away
Tags: pot
Comments are now closed.
gastroenterwritenment
manthatcooks is an irregularly updated and occasionally informative foodsite for people who have, or would like to have, moved on from say … toast.