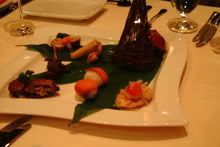 The Japanese pop-punk-band Hi-Standard are a fine band and do swell covers of "Love is a Battlefield" and "Can't Help Falling in Love". They may also be responsible for a recollected interview. One of their members spent a fair part of his childhood in LA and speaks fluent English. He complained that reviewers are usually intensely disappointed at this. So he resorts to "We are bery excitement to meet you" and the interviewer is happy. Hence we come to Yahachi.
Yahachi is a Japanese restaurant and was set up from Japan by Japanese but it's not what you'd expect as it's a Western restaurant but it's not really. You have to imagine a Tokyo restaurant making Western food but at risk of alienating its local clients, it sneaks in a Japanese ingredient here and there and has the equivalent of the steak and chips at the Chinese restaurant (anyone else remember the "Aussie" section of the menu?).
Yahachi sets itself up for failure because it's not what people might expect in an obvious way and thus is a niche restaurant when Perth isn't a big market but courts success by using local ingredients in a Japanese vernacular excellently.
Entree

Gang of four – wife, sister, birthday mum – so we went for a share of the hors'deurves for two and the mixed sashimi for two. The hors'deurves was a happy selection including rice croquette, cheese and garlic spring roll, and ball nigiri sushi. The sashimi was nannygai, pearl perch, and tuna. Althought the slices were on the small side, they were fresh and ambiently pleasant. Mum tried to separate two pieces, but finding that too hard, went for the pale green pile in the middle to a chorus of "noooooooh!".
Main

Had a wave of nostalgia sweep over me and couldn't bring myself to order the dhufush so settled for mixed tempura. It was as good as you could expect, not greasy of course, the batter was light, the crunchy bits crunchy and warm. A whole plate was little one dimensional just to work through and it could have been better shared or had with soba. As I side I had chawanmushi, which is a kind of savoury custard but try as I might, I still had trouble coming to terms with dashi custard with chicken and mushroom, it was like having vanilla soup. The standout was my sister's "thrice-cooked pork" marvellous pieces of slow cooked pork with a hint of anise on pumpkin dumplings. My mum's barramundi was plain and flavoursome and Toni's hasami-age chicken was the best fried chicken she had ever had until I reminded her of my fried chicken.
Dessert

With imaginary sky salaryman smiling over my choice, I finished with pickles. I then nicked everyone else's dessert. They didn't bring the Japanese preference for small spongy cakes and the azuki bean and green tea ice cream was as traditional as the meringue was delicious.
Dou?

It was a great pleasure, and hard to fault anything as all was cooked as well as it could have been – I've rarely had vegetables so crunchy. It was quiet for a Tuesday night, which was very calming, and the decor with shoji like walls filled with different silk patterns had me routing joints in my mind. Not cheap, but mains were all south of $30. Well recommended.
Yahachi The Colonnade 388 Hay Street Subiaco 9388 8330
Japanese Treats in Perth: There's an Hayao Miyazaki Film Festival in Freo from the 9th to the 18th. "My Neighbour Totoro" is one of the most wonderful films ever made, achieving childlike without being childish. Info at the Film and Television Institute.

Also – Takeshi Kitano's Zatoichi soon!
Disclaimer: Toyed with this for fear of name dropping but to keep my last shred of integrity, I should state that I am friends with the Japanese guy whose onerous job was to come over here a year or so ago, do market research at every good restaurant in Perth and then set Yahachi up. Rest assured though, that if it were shite, I would have kept the visit to myself. I am not friends with Miyazaki or Kitano.
Tags: restaurants
Comments are now closed.
gastroenterwritenment
manthatcooks is an irregularly updated and occasionally informative foodsite for people who have, or would like to have, moved on from say … toast.