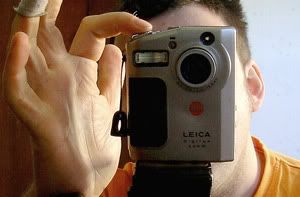 This is the real star of the show – the Leica Digilux Zoom . Bought it just before the end of the 20th century, I've elise to thank for my new found love of it by confounding my hope a while back that I needed to immediately go out and buy a D100. The Leica mainly hangs around on top of my Manfrotto tripod waiting to interrupt the serving of most meals around here. With a cute dimple on the front, it still takes a mean photo. My only beef with it is no flash mount. What do we learn from this – spend a bit up front and enjoy at your leisure. Curious to know what you other folks are packing.
Why can't you see my face, well that's because I have no nose.
Three blog faves with old trusty: Rauchenfelser Steinbier; Bauernfrühstück mit Gewürzgurken; Barret's Bread
Tags: camera
Comments are now closed.
gastroenterwritenment
manthatcooks is an irregularly updated and occasionally informative foodsite for people who have, or would like to have, moved on from say … toast.