Passionfruit and Chokito Cheesecake with a Passiona Glaze
September 11, 2004 in dessert | 12 comments

Watched "Grease", "Jules et Jim", and "The Rocky Horror Picture Show" last night. Which made me immeasurably fond for that decade of transgression in Australia, the seventies. I was just a wee innocent paisley shirted country lad, so my favourite weaknesses were just Passiona and Chokito. I still enjoy Passiona and it is the only non-alcoholic drink that brings me any any great joy. It was time to revisit the Mars Bar Cheesecake and move on with a bit of experimentation.
Underbelly of Eisenhower

300gm of chocolate coated digestive biscuits – reduced to crumbs and mixed in with 125gm of melted butter. Spread on the base of a springform tin and put in the refrigerator.
Menage A Trois

375gm of cream cheese, 1/3 cup of caster sugar, 1 tsp of vanilla essence beaten until smooth and then 1/4 cup of passionfruit pulp mixed in.

300ml pure cream beaten until soft peaks form.

All mixed together with 3 finely chopped Chokito bars and 3tsp of gelatine in 1/4 cup of warm water

Poured onto base and smoothed over.
Frankenfruit

1/3 cup of Passiona, a tbs of caster sugar and 2tbs of passionfruit pulp. Brought to a boil in a saucepan, simmered until thickened a little, and then brushed on top of the cheesecake.

Put in the refrigerator until firm.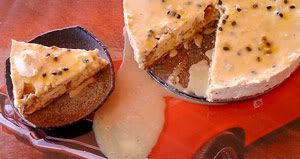 Good? Oh yes.
Tags: cheesecake
Comments are now closed.
gastroenterwritenment
manthatcooks is an irregularly updated and occasionally informative foodsite for people who have, or would like to have, moved on from say … toast.