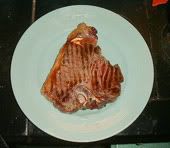 Dandarigan Organic T-bone steak cooked in duck fat to medium rare and served with a sprinkle of cracked pepper. Had with steamed corn on the cob with butter and sea salt.
BTW: *now* my camera works. No doubt paralysed by shyness in the awesome presence of Peter Garret. Got a signed poster though. Woohoo! Thanks to Young Labor for hosting. I snuck in with a line on opportunity, bit of Grecian 2000 and some haemmerhoid cream for the eyes. Finger food though, had me pining for carrot sticks and french onion dip.
Comments are now closed.
gastroenterwritenment
manthatcooks is an irregularly updated and occasionally informative foodsite for people who have, or would like to have, moved on from say … toast.