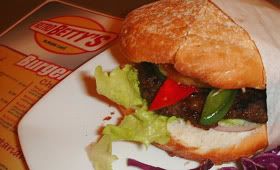 Look at it. What do you see? Do you see a sugary bun that yields like wettex to limp lettuce and grey beef that leaves a trace on your mouth like your toothbrush had been dipped in the fat trap? Would you get half way through it and wonder what you were thinking?
A dollar or two more than shit, and you'll miss out on reconstituted salt and grease sticks and fizzy caffeinated sugar swill. We've lost a few great burger places in Perth through sanitised mediocrity. Well apostrophied Retro Betty's is a blessing.
More good stuff that evening. You'll not see a more violent, funny, tragic, thrilling, and beautiful film than Zatoichi. Kitano is a genius who loves his films and makes them how he wants with people he likes. I could go on and on about this but if you'll excuse me, I'm off to practice tap dancing in my geta.
Retro Betty's, 127 Oxford Street, Leederville

Zatoichi is on at the Luna.

Evan Williams smokes goats.
Comments are now closed.
gastroenterwritenment
manthatcooks is an irregularly updated and occasionally informative foodsite for people who have, or would like to have, moved on from say … toast.