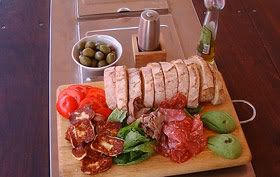 Lunch seems to have replaced the boss coming for dinner as the template anxiety situation.
Loaf of ciabatta from Jean-Claudes, tomato, avocado, lettuce, shaved beef, mild sopresso, pan fried Cretan haloumi cheese, and some olive oil and pepper. Not at home like I thought they'd be- tapenade and sardines; should stock up. Also there, were Eagle Vale olives which are grown up near Geraldton but can now be bought at Farmer Jacques in Subiaco. Best olives from memory I've bought.
Little guest made very welcome.

Tags: weekend
Comments are now closed.
gastroenterwritenment
manthatcooks is an irregularly updated and occasionally informative foodsite for people who have, or would like to have, moved on from say … toast.