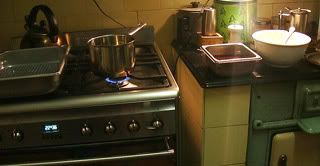 Short term wagon boy is sitting this Is My Blog Burning? out. I'd recommend getting over there in a day or two to see what people have done with two of the five pillars of a good life.
Apologies, and for those who wouldn't dream of visiting another food blog out of burning loyalty, here are some things from the archives: Beef and Stout Stew with Scone of Scone; Beef Bourguignon; and Deep Fried Wine with a Champagne Batter.
it's up: IMBB?8 round up. Cheers to "There's a Chef in my Kitchen" for hosting.
Comments are now closed.
gastroenterwritenment
manthatcooks is an irregularly updated and occasionally informative foodsite for people who have, or would like to have, moved on from say … toast.