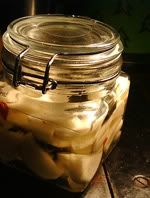 One of the more unique features of Japanese is their love of onomatopoeia. Usually a two syllabled word repeated such as nuru nuru, bashi bashiand pika pika. The last one, for example, translates as "twinkle twinkle" and I would thank old ladies that said this to me as I gave my bike its weekly wax and polish. You can find a few more that feature in manga here.
My favourite is kari kari which is what you use to describe something crunchy, in this case my ideal pickle. They're not hard to make and here's how it's done:
First

Take one large daikon and peel it, slice down the middle, and then slice into 5mm rounds.
Salting.

One of the main reasons for this is to draw out moisture. A fair assumption is that if the moisture comes out then the pickling flavour can go in. Place the daikon in a bowl, sprinkle with two tablespoons of sea salt. The more salt, the longer it'll keep – this amount will keep it for a week or two. Rub the salt in and place a plate on top with a weight on it. The bowl must not be metal or it will taint the flavour. Leave for half an hour and then drain.
Pickling Liquid

1/4 cup of vinegar; 1/2 tsp salt; 1tsp of sugar; 1/2 cup of water Place the daikon flatly in a pickling jar, adding two small chopped chillies and 8cm of konbu (for that mysterious MSG flavour of umami). Fill with the liquid, topping up with a little water to cover.
Left it for four days and it's nice and sharp and kari kari,
Comments are now closed.
gastroenterwritenment
manthatcooks is an irregularly updated and occasionally informative foodsite for people who have, or would like to have, moved on from say … toast.