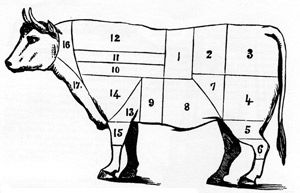 Gah I'm cream crackered, here go amuse yourselves. Best picture wins a meat tray. Colours below.
1. Fuchsia ; 2 Gainsboro; 3 Ghostwhite; 4 Gold; 5 Goldenrod; 6 Gray; 7 Green; 8 Greenyellow; 9 Honeydew; 10 Hotpink; 11 Indianred; 12 Indigo; 13 Ivory; 14 Khaki; 15 Lavender; 16 Lemonchiffon; 17 Chartreuse.
Late, Great: spicycow. Warning! not for gentle meat comes from the supermarket folk.
Starving Artist: David has a beautiful vision in his auspicious piece, The Technicolour Ox is Patient and Strong and Will Graze in the Surplus Money of his Sound Fiscal Management (I'm guessing on the title ; )
Tags: scans
Comments are now closed.
gastroenterwritenment
manthatcooks is an irregularly updated and occasionally informative foodsite for people who have, or would like to have, moved on from say … toast.