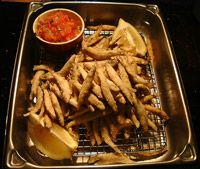 Whitebait; Jailbait; Jail Break and there ends a little associative journey that ends not in some elaborate international conspiracy but at a certifiable rock classic. What does AC/DC have to do with whitebait? Nothing except they're both suffered from not being taken seriously and ………………. come from around Fremantle.
Whitebait was a serious "food good" moment on a diving trip as a teenager near the Abrolhos Islands. One of us reached out of the back of the boat and scooped up a catch bag full of them and dumped them straight on the BBQ plate. I don't think we did more than scoop them up and eat them.
Not quite as simple but little more difficult is deep fried whitebait. Dusted in a plastic bag with equal parts flour and cornflour with a dose of pepper and chilli powder. Deep fried in a wok in canola oil.
Served with a lemon and a cooked salsa with the following:

a finely sliced onion; 2 chopped garlic cloves; 1 deseeded finely sliced chilli -sauteed a little then simmered with 4 chopped tomatoes with the lid on for 10 minutes.

A handful of parsley, half a cup of fresh breadcrumbs, and some pepper added at the end.
Tags: fried
Comments are now closed.
gastroenterwritenment
manthatcooks is an irregularly updated and occasionally informative foodsite for people who have, or would like to have, moved on from say … toast.