Chinese ones best done stirfried quickly with oil and ginger and a bit of oyster sauce and served with fish.

Local ones court foodie vote in an election campaign where food gets not a mention (where's Bob Carr and his sausage rolls). A "have your cake and eat it too" brochure and then this Cleanskins fundraiser.

Iron Mark -over to him for a hustle in below the line senate voting extravaganza – all it takes is a beer not champagne government. *

On the nose Jack? Last week's casserole.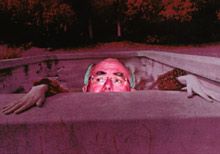 Full and detailed pre-election posting soon. And of course some food.
Launch*Full strength local with gold for grandad. Good.
Comments are now closed.
gastroenterwritenment
manthatcooks is an irregularly updated and occasionally informative foodsite for people who have, or would like to have, moved on from say … toast.