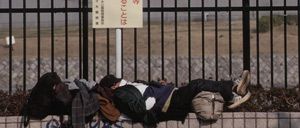 Over the past month or so, I have been training for a marathon, not drinking, and following the election like some obsessed sports fan. I want my life back. Next Sunday I hope to have the marathon behind me, a cold beer in front of me, and the knowledge that we have a new government.
Of only one I am certain but the last means the most. I don't know if this is the site for converts but I'm writing in the hope that if I change one decision, I'll have doubled my vote.
I have nothing to comment as a foodie only to offer Peter Ransen's sharp observation that Howard is a man that chucks a few sausages on the barbie and stands there like a chef. It's people like him, Chris Sheil, Robert Corr, John Quiggin, Aussie and Big Bob, Tim Dunlop, Sedgwick, Darp, David Tiley, Saint, and many more that have both inspired me and left me scratching my head as to what I could add.
What I can add is this. I lived in Japan for 7 years and moved back here three years ago. I could spend a lifetime trying to work it out but the knowledge I have will have to do. Welcome to our possible future.
Many countries would kill for a recession like Japan's but really it keeps going because of dedicated individuals like Subaru engineers that will spend 12-14 hours a day at work for years because they take pride in what they do. These people are the real heroes, not the bosses, not the government. What Japan's malaise is essentially an entrenched one party state that has been dominated by the conservative side that has maintained power with a compliant media, a politicised bureaucracy, and a public that has been dulled by obsession with pop idol trivia and gadgets.
Unemployment has remained hidden from official statistics and the solution to homelessness is to drive them out of the train stations where they would sleep in their hundreds. The homeless are not kids on the lam but older men, unable to find work. They have an antiquated health system where the cure for everything is a packet of white powder and two tablets. Two broken arms would have cost me nearly ten grand were it not for private health cover and I still have a 15cm long scar on my arm. Education features a series of "escalator" private schools where kids start at private primary schools and glide their way up to the same private universities and from there the best jobs. Love rote learning and pointless testing, you'll love Japan.
Gaijin, in public sphere, still lives up its translation of outside person. Even people who have spent much of their lives there get the "wow you can speak Japanese" like foreigners are Charlton Heston in Planet of the Apes. When they speak of we Japanese you get the feeling that there is a very exclusive monocultural and monoracial idea of that. Foreigner bashing is great sport for demagogues.
Interest rates nearly dipped below zero but housing is only affordable in the boonies and ask people about the great property bubble and negative equity. Such good times, shame it dragged down the real economy. The fraying of the social bonds is everywhere – fucked up kids, anomie, and senseless violent murders.
In fixing things the government has dragged things out ( no sort sharp shock here); made a big deal of promises of reform- only to compromise in the face of entrenched interest groups; continued with useless pork barreling; and the faithful are rallied in pointless jingoistic point scoring designed just to piss off the neighbours. The old men of the LDP have only one goal and that is to keep themselves and their bureaucratic sidekicks in power, I think Japanese people have forgotten how to boot a party out of power and cling to their fears and insecurities.
I don't want to make this a negative plea and comparing between countries is a difficult thing. I also don't want to bag Japan, it has many tremendous qualities that I love, but the political culture embodies its worst aspects rather than its best. Latham's journey is forwards and upwards. Howard's been a clinger, a liar, a panderer and someone wiht his finger on the ejector button that as soon as the shit hits the fan, he'll be saying tata. As for the rest: Downer over Rudd, Abbot over Gillard, Costello over a vertebrate, Ruddock over the living – didn't think so. My wife says worriedly that I'm very involved this time, so I should be, the stakes are high and its time to move.
I've been waiting three years to come home. Here's hoping for a finished marathon, a cold beer, and a new government. Yoroshiku.
Comments are now closed.
gastroenterwritenment
manthatcooks is an irregularly updated and occasionally informative foodsite for people who have, or would like to have, moved on from say … toast.