Perth and Melbourne aren't substantially substantially different but they are quantitatively different. I realised this when going to my first hot tip place after gingerly negotiating my way down Hoddle Street in a Nissan (i [cough] rony ) Pathfinder. Border books has a front bit with many books and then it has a middle bit, and then it has another middle bit just after the other bit middle bit before that bit. I was puffing by the end of it. The crime fiction bookstore was larger than my favourite all genre bookstore back home. Bought a hard to find book by Mishima and then wandered off to ponder a $99 Dennis the Menace T-Shirt.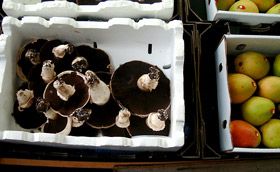 Prahran is hard to spell, harder to pronounce but has a great market. Oh it has a butcher's oh has 6 of them. Some very good looking fruit and veg here. The fresh pasta hit my eye but I wasn't sure of dinner arrangement so bought a spinach cheese bread thingy. Bought a smoothy and then stopped in a Brioche by Philip for a fig, walnut, and blue cheese brioche and some chocolate sourdough with hazelnuts and sour cherries. At the thingy and the brioche in front of the council offices. The brioche was a good thing, very yeasty – not sure if this was a flashback to a beer and blue cheese marinade I made once.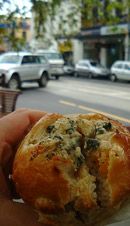 Drawn into an action figurine shop by a David St-Hubbins doll. I'm obsessed by the Apollo mission and ask if I could have the small Neil Armstrong model. The shop assistant looks at me worriedly and says "That's Buzz Aldrin [pause] will that still be OK?". I apologise for the error and say I'll take it anyway.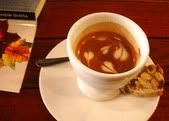 Ornately decorated coffee while listening to somebody with a Limahl haircut plan an event. Then to a large secondhand bookshop that scoffed at frontage.
Had a time making it to Lygon street in the rain. Melbourne roads were planned during the rack and pinion shortage just after WW2 leading to a rationing of left and right turns. Trams appear from nowhere like the second pinball.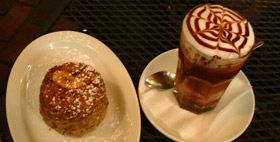 Hello to Anthony and family we chatted, went for coffee. Lo the spiderman hot chocolate and a banana muffin so dense, the edges of the plate curved inwards. I saw the prototype of the audiocassette and found out what a Chapman stick is. Plans made for Tuesday.
Dinner ended up in and saw some fresh lasagna sheets and decided to go with that. Lasagna was in the following layers from bottom upwards:

-spicy italian sausage cooked in a tomato sauce

-fresh tomato with ricotta and a rocket pesto.

-fried zucchini and eggplant white sauce

-leftover meat sauce

-spinach and pinenut

-whitesauce and extra parmesan on top.
Quantitative
Comments are now closed.
gastroenterwritenment
manthatcooks is an irregularly updated and occasionally informative foodsite for people who have, or would like to have, moved on from say … toast.