Melbourne Drinks – don't need booze to have a good time.
October 13, 2004 in travels | 14 comments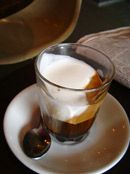 Hitting the front in the Melbourne Macchiato Glamourthon is this number from the GroceryBar . Strong geometric line. Like. Good service too and nicely runny poached eggs.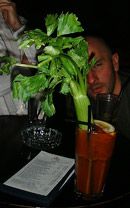 Just in all round impressiveness was the Virgin Mary appearing before me at the Gin Palace for Sonya's birthday drinks. Comes not only with a gigantic piece of celery but its own film maker. All the best Greg Williams.
Way out of synch chronologically (redundancy?) but more posted when I return the land of sand.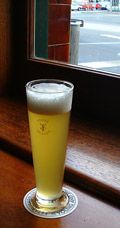 Beer at the Young and (now there's an unfortunate combo) Jackson pub that I didn't drink.
Hey it's those eggs: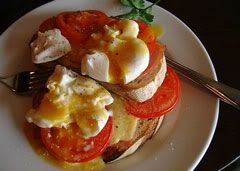 Comments are now closed.
gastroenterwritenment
manthatcooks is an irregularly updated and occasionally informative foodsite for people who have, or would like to have, moved on from say … toast.