Melbourne isn't a Bridge and Opera House place like Sydney. Its charms lie in long chains of buildings and villages. Social more than individual. Two standouts.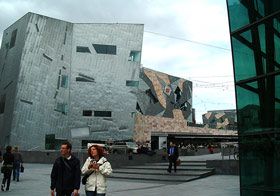 Federation Square.

Makes one proud to be Bulgarian, come back Christo, all is forgiven.
Luna Park Entrance.

Exit less popular.
Comments are now closed.
gastroenterwritenment
manthatcooks is an irregularly updated and occasionally informative foodsite for people who have, or would like to have, moved on from say … toast.