Melbourne – friends and strangers you haven't met yet
October 17, 2004 in travels | 4 comments
Dinner on the Monday night with the His Excellency the Semi Visible Governor General of Australia Sedgwick and his wife at Akita Japanese restaurant in North Melbourne. Too much food to mention and it was *all* good, especially the quail. GG's have much to teach us about protocol and manners with the following – gifts, bottle of wine waiting and poured on arrival, capital Q quality conversation, and a lift back to Clifton Hill.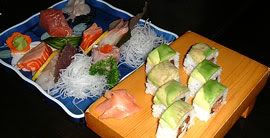 Tuesday was a meeting for lunch and food shopping at the Vic Markets with commenter and master linguist Anthony and his two little tackers. The Vic Markets are humongous and are broken up into parts of deli, fruit and veg, meat, and the other bit must be where they sell crystals and stuff. Short hint for dealing with four year olds – how was your day Q&A is fine but the hand formed death ray dodging crab monster will have ya mates for life. Anthony took off to cook the market booty and I grabbed some blueberries, tart things, and marscapone for dessert. 1:59, one minute before closing is not the time to do this – cinderella! Dinner at his was tops with Gado Gado (twin) and the Rendang (two stroke) cooked up a treat with must buy L shaped wok stirrer and apostrophe shaped Indonesian volcanic pestle (photos in analogue). Off to the pub for afters.
Thanks too to the spectral FX Holden whose advice led me around Melbourne like a de-constituted Obi Wan. For the other hinters – cheers you saved me from wandering around god help me with Lonely Planet .
Our hosts, Mitch and Peg who let us stay in their flash pad barely two weeks moved in to. Many many thanks.
Comments are now closed.
gastroenterwritenment
manthatcooks is an irregularly updated and occasionally informative foodsite for people who have, or would like to have, moved on from say … toast.