Bouillabaisse

'allo can you go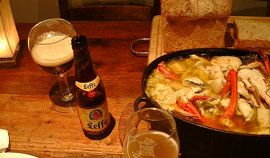 Much discussion about authenticity on this one but authenticity is a much more contrary beast than some would have you believe. There is petty authenticity and great authenticity. Wear the right mirkin buckle at a Mediaeval Fayre and it's bouquets. Run a sword through Sir Gallahad, brickbats.
I'm not channelling poor Marseilles fisherfolk here so it's what looks good at the fish shop in the three categories of shellfish, firm fleshed, and soft fleshed. Had in my company, authentic French woman, Veronique, who had the requisite three categories of a french name; the ability to pronounce rouille; and willingness to put up with me going haw haw haw haaaaw. We chose
Blue Manna crabs and Crayfish legs

Fillets of King Snapper and Mangrove Jack

Whole Whiting and Garfish
Dinner would be good. At Tate Estate on newly upholstered chairs and Kiwi Robert was going to the International Beer Shop to get a selection of fine beers.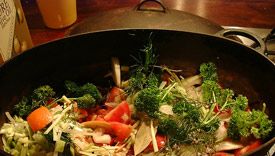 C'est une tables

6 seeded and chopped tomatoes; two chopped onions; half the whites of a leek; 8 small cloves of *pounded* garlic; a sprig of fennel; a bay leaf; three sprigs of *bruised* parsley; three sprigs of thyme; and a piece of orange peel.
On top of this goes the
Crustaceans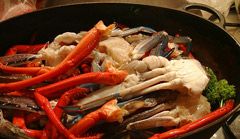 Then with the firm fleshed fish on top of this and a cup of olive oil; salt; pepper; and crumbled saffron. All covered with the quick and easy fish stock I'd made with the whiting and garfish bones. Extra water to cover.
Strategy

We had about four cookbooks open but settled with the Larousse Gastronomique version. I've got 643 recipes requiring the aromatics to be sauteed first so this wouldn't be 644. Just cover, turn the heat on and get it boiling. The boiling is important as it blends the oil in properly. After 9 minutes put in the soft fleshed fish and cook for another 7 minutes. It should take no longer than 15 minutes in total.
Served in bowls with simple bread and rouille.
The meal

Great mussel starter. The bouillabaisse' stock was superb, especially with the hint of saffron. The crayfish legs were no great shakes but the local crabs topped it. Heavy duty beers were in action all evening. A Spanish beer, Alhambra Reserves 1925 that was more Belgian than Belgians – 6%. Hoegaarden's as breathers, and the Leffe Brune and the Leffe Radieuse. A great Spanish Basa 2003 Blanco – no citric stilettoes here, smooth with a hint of olives. Hey, how tight are the Dead Kennedys? Didn't make it to the other one – off my game.
Next Month: Duck a L'orange! Rescued from the 70's.
Comments are now closed.
gastroenterwritenment
manthatcooks is an irregularly updated and occasionally informative foodsite for people who have, or would like to have, moved on from say … toast.