Fact! Cooks cook to get out of doing the dishes.
Santos got me thinking a while back with her Dream Kitchen post about what kind of dishwasher I'd like. Off I slowly scurried through my old Orange Pages. Now I could think of nothing better than the TOTO EUD300 uoshuap 2doasurim pictured above. Then on page 78, vavoom!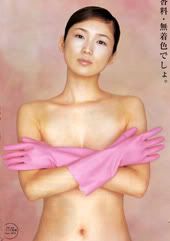 Votes:

A. TOTO EUD300 uoshuap 2doasurim

B. Model wearing nothing but pink washing up gloves
Comments are now closed.
gastroenterwritenment
manthatcooks is an irregularly updated and occasionally informative foodsite for people who have, or would like to have, moved on from say … toast.