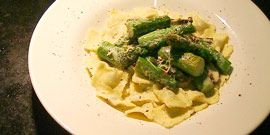 Evolving dinner idea. Just some store bought ravioli. Had some fresh asparagus steamed them for a minute over the boiling pasta water and then sauteed with four thinly sliced organic garlic cloves and some EVOO. Decided to add a handful of sliced field mushrooms.
Then remembered I had some leftover cream from Saturday's French Toast (use a bit of almond essence as well in the batter – does no harm at all). First just splashed a bit of sherry (bottomless bottle of) around in the pan then added the cream. Bit of a simmer while the ravioli was on, then seasoned to taste and garnished with parmesan.
Fresh and fuggintastic. Keep away from jars. No excuses.
Comments are now closed.
gastroenterwritenment
manthatcooks is an irregularly updated and occasionally informative foodsite for people who have, or would like to have, moved on from say … toast.