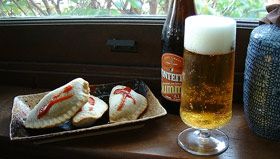 Wooh! I can get back to Friday beer specials.
Down at the IBS and saw this bit of alluring marketing for Monteith's Rata Honey & spice flavoured Summer Ale from NZ.

This uniquely different beer is real summer refreshment with a spicy zest
It's a gorgeous day here, I was sold. Rob at the shop suggested Thai but I just heated up some vege curry puffs.
First thing I noticed was a whiff of ginger like drinking home-brewed ginger ale and then the actual taste was well within the parameters of normal larger in bite. Perhaps a little peppery but very little honey. It's really really good. Four different malts! If you try one beer this summer etc.
Tags: beer
Comments are now closed.
gastroenterwritenment
manthatcooks is an irregularly updated and occasionally informative foodsite for people who have, or would like to have, moved on from say … toast.