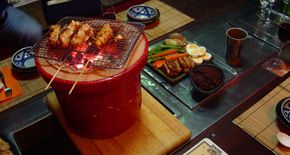 A pleasantly calm and warm spring evening had my sister and brother-in-law over for a BBQ. Feeling low maintenancy after discovering why I never make terrines, I thought I could give my charcoal burner a go and sit around and have some satay chicken. Still impressed by the Melbourne Gado Gado I was made, I thought I'd have that too.
I was going to just have bought sauce but I found this recipe on the net and the writer shamed me by regarding even using peanut butter as a "so-called shortcut". Bastard. There are bits of peanut everywhere now but it was good. Pretty much as the recipe says but one lime instead of lemon and sambal olek instead of the chilli powder and shrimp paste.
Chicken Satay

3 Free range chicken breasts cut into bite sized pieces with the following marinade one small onion, knob of ginger, 4 garlic cloves – finely grated; juice of one lemon; 2tsp sambal olek; 2tbs brown sugar; and

1/3 cup of soy sauce. Served with a sauce of equal parts Hogan's Satay Sauce and a small can of coconut cream simmered for 8 minutes.
Sat around the table and cooked the satay sticks and ate the gado gado with rice and then moved on to some top notch beef and bacon and then chicken kebabs made by Jean. Finished with a bottle of Krinklewood 2002 Botrytis and a rowdy game of Pop-Up Pirate.
Comments are now closed.
gastroenterwritenment
manthatcooks is an irregularly updated and occasionally informative foodsite for people who have, or would like to have, moved on from say … toast.