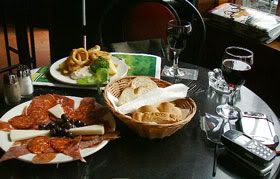 The digicamera is down, possibly terminally so I'm going have to dig into the reserves supernova style until the issue is resolved to keep visual input quota at acceptable levels. Expect memory lane, old cookbooks, and scanned food for a while.
Tapas at the Rabbie Burns Pub in Smith Street, Melbourne. Pre-Highlander this may have been highly incongruous, I didn't bat an eyelid – nor should you. The wine was red and Spanish and good and where are those notes I made?
Comments are now closed.
gastroenterwritenment
manthatcooks is an irregularly updated and occasionally informative foodsite for people who have, or would like to have, moved on from say … toast.