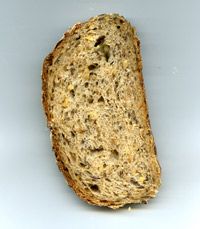 New Norcia monky magic 7 grain bread. Can't say I was thrilled by the sourdough (is it just me that picks up a slight soapy taste) but this 7 grain is excellent. Passed the "I'm just having it with butter test" with flying colours. From Leonard's Deli on St Leonard's Street in Leederville. They're pushing high quality local produce and are doing the gourmet deli thing so pop in and support their endeavour. New Norcia bread on Mondays, Wednesdays, and Saturdays.
Last night went to arirang Korean BBQ restaurant last night in Subiaco and was impressed for a lot of reasons. You cook your own meat over hot coals and the marinated beef, pork and chicken (no tongue on first date) was deeelectable. Meat came with pickles, kim-chee, rice, and miso. The cooked beef is eaten wrapped in lettuce with rice like san choi bow. Great stuff and also had a cold noodle bibim neng myun salad to finish. Enjoyed the sweet spicy sauce offset by pieces of nashi apple. Hite beer was the waiter's favourite and with good reason – everything a light summery meat eating lager should be.
Tops though, was the service. Heartfelt, sincere, helpful. They genuinely wanted us to enjoy our meal. This shouldn't be unusual, but it is.
About $20 a head for the food, more than your usual Asian restaurant but less than what most meat and carbs places charge (won't pay more than $15 – the Nookenburra Hotel hasn't been knocked down yet).
Arirang BBQ Korean Restaurant – 420 Hay Street, Subiaco
Tags: restaurants, scans
Comments are now closed.
gastroenterwritenment
manthatcooks is an irregularly updated and occasionally informative foodsite for people who have, or would like to have, moved on from say … toast.