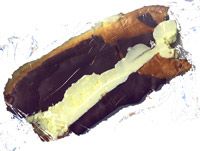 Jellied Cream.

Like it? Had it?

Thickened cream.

Never knew it.

Cream + Gelatine.

What a fraud.
Process for coming up with this:

Ubaldi Saccotini al Salmone -> Lemon-> Cream -> Fresh Parsley Fennel->Small Bottle of Pinot Chardy Sparklin'.
Saccotini al Salmone look like little wontons. Grated the lemon peel of two lemons finely, cooked in little butter for a minute or two. In went the sparkling, simmered for a few minutes. Cup of whipping cream. Simmer and stir for another two with a tbs of fennel leaves. Pour over the Saccotini and add some parmesan.
Fresh and tart creamy with the fennel adding an unexpected flavour disorient. Liked it a lot. A lot. Saccotini could have gone harder with the salmon, but why not just have fresh pasta with smoked salmon. Capers?

Comments are now closed.
gastroenterwritenment
manthatcooks is an irregularly updated and occasionally informative foodsite for people who have, or would like to have, moved on from say … toast.