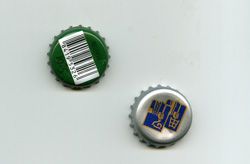 What you find in your pocket.
But shhhhhhhhh the brown beef stock is resting in the fridge. Soon I'll go and take the fat off the top. It's for tonight's beer banquet, of and with. A kilo of beef bones, three carrots and three celery sticks, a large onion, 6 cloves of garlic. All slow roasted for an hour and then put in a stock pot along with the pan scraping with enough water to cover and some parsley, thyme and a bay leaf and left to simmer for 3 hours.
This will be for my course, venison shanks. I can see them now, resting on barley and wild mushrooms with the meat flaking off at the touch of a fork having been cooked slowly in a yet to be decided ale…
Tags: stock
Comments are now closed.
gastroenterwritenment
manthatcooks is an irregularly updated and occasionally informative foodsite for people who have, or would like to have, moved on from say … toast.