Beer Banquet – Preliminary Beer Choosings
November 13, 2004 in drinks | 5 comments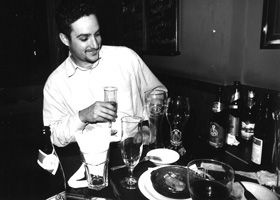 One tokyo goat feeling pleased with things a few years back at a Belgian Beer Bar in Shinjuku, Tokyo.
The beer. Thinking thinking. Wine match is for venison is usually a shiraz, so I'm thinking something that adds punch without getting too caught in that heaviness of a stout. One book recommends a white wine for veal shanks but it might get lost in there. Especially if I'm adding a brown beef stock. Thinking ale but Michael (no) Jackson thought for game a lambic (too weak) or a stout (not acidic enough) and he ended up with an old Flemish Ale. The International Beer Shop suggested a Rodenbach Grand Cru. Good.
Got home and tested it as I was curious as to what would happen to it with heat. I tried a small amount as was, then simmered for a few minutes and tried and it, and then reduced it to half. "As was" was strong sharp flavoured, suggesting the berry flavours of lambic. With simmering a bit of the flavour dropped out, but then consolidated with fully filled taste experience – the berries still there but very stock like.
This is going to be The Melvins
For the soup, I was thinking a kind of potato and pale ale jobby but too much thinking on the sideshow so just went for the suggested beer spin on French Onion soup with Fuller's ESB standing in for half the stock.
Tags: beer
Comments are now closed.
gastroenterwritenment
manthatcooks is an irregularly updated and occasionally informative foodsite for people who have, or would like to have, moved on from say … toast.