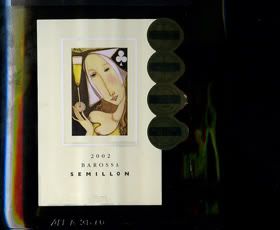 Bought 6 bottles of the Peter Lehmann 2002 Barossa Semillon yesterday at the low low price of $7.50 a bottle yesterday and had to give it a try before I bought bigger volumes for festos.
It is good, at first I thought oily but then , after another try it starts with a lemony buhwang and then sits there softly aaahhhooooohhhhhhwaahhhhh with a slight back of the throat cymbal work. Lager wine came to mind and, keeping that low low price in mind, I was happy.
The came the pasta. A dried and unusual looking pasta. filejia, that looks like a play-doh attempt at a cigarette. Lemon for pasta sauce is in tomatoes, a new world travesty, are out. Don't argue. The sauce was:
one chopped red chilli and two chopped garlic cloves- sauteed in EVOO; followed by 150gm of proscuitto (not the paper thin slices but a couple of mill); and then a squeezed lemon and added its zest
Let's see
…………….Chilliillilililililililililililililililililiiiiiiliiiiiiiilliil
…………….gaaaarlicky
…………….salty meaty salty salty
…………….llllleemmmonnyyyyyyyyyyyyy
buhwanggaaahhhooooohhhhhhwaahhhhh tsktsktsktsktsts
Good. Off they go those crazy kids.
Comments are now closed.
gastroenterwritenment
manthatcooks is an irregularly updated and occasionally informative foodsite for people who have, or would like to have, moved on from say … toast.