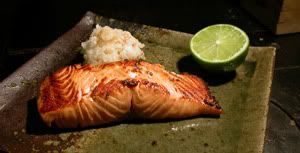 Fish Monday. Tasmanian Salmon.
It's hot and I'm not a salad person.
Daikon(giant radish –Dai means "large" and kon is "root", not to be confused with la petit mort), has a good bite to it and is sharp and refreshing finely sliced or grated. I got one of these as well as smoothy fruit and then walked over to the fish markets and bought two pieces of Tasmanian Salmon. Salmon says creamy or buttery or asparagus so daikon was an unusual pairing, but the thought of the cold daikon with hot salmon was appealing.
Orange Page gave a rough thumbs up to the pairing and it was as follows:
Oroshi Daikon
1 cup of finely grated daikon; 1 tsp soy; 1/2 tsp of icihimi / togarashi (sub with cayenne)
Salmon
2 salmon fillets; juice of one lime; 2 tbs semillon (standing in for sake); 1 tbs soy; 1 tbs rice vinegar;
Marinate for half an hour, dry with a paper towel. Heat vegetable oil on a hot plate and cook and the flip, pouring a tablespoon of the marinade over. Serve with the daikon and half a lime.
Extra good.
Comments are now closed.
gastroenterwritenment
manthatcooks is an irregularly updated and occasionally informative foodsite for people who have, or would like to have, moved on from say … toast.