About to party like it's Chimay '99
A beer dinner party sounds novel or sends predictable signals: curry, counter lunch, pork scratchings. It shouldn't. Beer has sophisticated and distinctive taste characteristics and is a liquid that has long been used in cooking. I have no idea why but it may have something to do with localised beer dominance or the fact that countries that excel as beer producers have relatively poor cuisines and vise versa. Not naming names here.
The dinner (held on the 13th) was a great food and drink pairing exercise, putting the beer minds of Robbie and Graham to busy work. This was the result.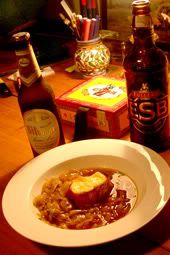 Following starters of Blue Cheese and Hoegaarden White Dip served with Hoegaarden White by Rhonda. Followed by (pictured) Fullers ESB Onion Soup served with with Bitburger by me.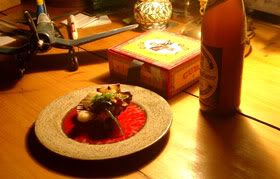 Aventinus Scallop Coins served with Weihenstephaner Hefeweissbier by Sonya.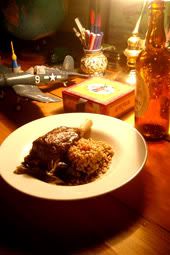 Vension Shanks cooked in Rodenbach Grand Cru with a Barley and Mushroom Timbale served with 3 Monts by me.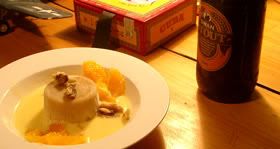 Walnut Aventinus Ice Souffle with Crème Anglais à l'Orange served with Swan Stout by Veronique
Cheese Platter had with 1999 Chimay Grande Reserve by Rhonda with the cellaring discipline of Graham.
Comments
Well to get the mea culpa out of the way, the weak link was the shanks which were mostly undercooked – an overcrowded roasting tray, an insufficiently hot oven, and a tight schedule. My fault entirely and were it not for the lure of the Chimays, I would have offed myself there and then. The rest were excellent. You may have tried most of the beers and the ones you haven't, do so. None are more expensive than a very very average bottle of wine. I was too busy fussing or drinking for tasting notes so you'll just have to trust me on this one.
It's a very heavy evening. We tried to hold it back to around 5% earlier one but from the 3 Monts on, it was serious booze territory and the men folk were dropping like flies. Smaller glasses maybe.
Homework
Try at least one course with a matched beer and consider using beer as a key ingredient in a course. Identify the model plane in the picture and discuss its contribution to ending WWII.
Thanks
To Rhonda and Graham for hosting and to Mark at the International Beer Shop for his enthusiasm and wisdom and an apology for calling him Rob for the past 6 months.
Tags: beer
Comments are now closed.
gastroenterwritenment
manthatcooks is an irregularly updated and occasionally informative foodsite for people who have, or would like to have, moved on from say … toast.