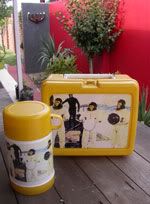 E.Coli bacteria will double in number in 15 minutes at 37 &#186C.
With the daytime temperature heading there, it's time to be careful about leaving food out, and getting your sandwiches a lunchbox with some ice/strong margarita in the thermos. Rice and pasta salad, I'm happy to add, is especially at risk.
Comments are now closed.
gastroenterwritenment
manthatcooks is an irregularly updated and occasionally informative foodsite for people who have, or would like to have, moved on from say … toast.